Hobson Wildenthal Honors College at UT Dallas
Terry Scholars, Class of 2021
The 2021 class of Terry Scholars at UT Dallas includes the following traditional students:
Rahma Arif
Brighter Horizons Academy, Garland
Rahma Arif was an AP Scholar and vice president of the Science National Honor Society. She was the Drug, Alcohol, Safety and Health committee head and recognized by the district. She held leadership positions in NHS and Model UN. Arif competed in the TAPPS one-act play competition as a state finalist, receiving multiple awards. She volunteered with The Islamic Circle of North America Relief, Legacies Geriatrics Nursing Home, and the Wylie Teen Library council. Arif spearheaded book drives for schools affected by the California wildfires, and during Covid-19 she initiated socially distant playground activities for elementary students. Arif is majoring in healthcare studies.
Nithya Eluri
Lone Star High School, Frisco
Nithya Eluri was an AP Scholar and member of NHS. She was an ambassador for the National Breast Cancer Foundation, where she supported and fundraised for many patients. As an officer for the Charitable Students of America, Eluri was part of A Leg to Stand On, which provides orthopedic care to underserved children. Eluri was a captain and regional champion on her debate team as well as vice president in Health Professions of America, where she was a state competitor in the public health sector. She also mentored elementary and middle school students. Eluri is majoring in information technology and systems.
Anthony Faulkner
Round Rock High, Round Rock
Anthony Faulkner is a Hispanic Scholarship Fund Scholar and National Hispanic Scholar. He graduated in the top half percent of his class and was awarded one of two Dell Gold Scholarship Awards. Faulkner was the band's euphonium section leader and won numerous solo awards for his musical performances. His team placed third in the Sports Virtual Business Challenge at DECA's 2021 International Career Development Conference. Faulkner also volunteered as a coach at his local BMX race track and jump trails and was a mentor and tutor for younger students. Faulkner is majoring in mechanical engineering.
Karen Herrada
Emmett J. Conrad High, Dallas
Karen Herrada was senior class president, drum major of the marching band, a varsity soccer player, and the operator for the robotics team. She also participated in programs advocating positivity and equality for females in STEM. Herrada volunteered with the Children's Hunger Fund, the Dallas Arboretum, the Salvation Army and served as an academic tutor at her school. Herrada obtained an associate's degree at Richland College while attending high school. Herrada is majoring in mechanical engineering.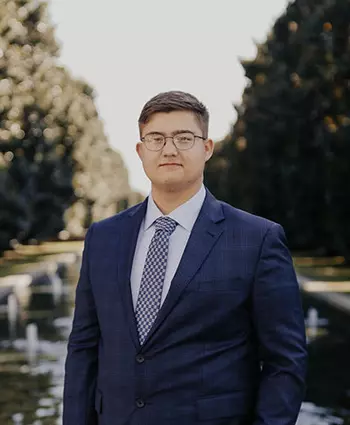 Henry Jones
Robert E. Lee High, Tyler
Henry Jones was an AP Scholar and a member of NHS. He was the team captain of the UIL computer science team and a cellist in the varsity orchestra where he earned a Division 1 Superior Rating at Texas UIL Solo and Ensemble. Jones interned doing projects related to cybersecurity and volunteered at the Tyler Public Library and the East Texas Food Bank. Jones is majoring in computer science.
Jennifer Lo
Carnegie Vanguard High School, Houston
Jennifer Lo was an AP Scholar with Honors as well as team captain, mentor, and co-founder of a robotics club. She was board director of Interact Club, chief editor of Comic Club, and vice president of Financial Literacy Club. She was also part of MD Anderson Cancer Center's Women and Minority Faculty Inclusion Summer Program and volunteered at Breakthrough Houston and the Morris Frank Library. Lo is majoring in neuroscience.
Leonardo Mandujano
McNeil High School, Austin
Leonardo Mandujano was vice president and co-founder of the McNeil Coding United Club and vice president of the Science National Honor Society. He was also a member of NHS, HOSA, and the environmental club. He placed at both district and state competitions through HOSA and placed at the regional level in several science competitions through NSHS. Mandujano volunteered extensively at the American Red Cross, Kindred Hospice Center, Austin Pets Alive, and the Round Rock Serving Center. He was also lead youth guitarist for his church band. Mandujano is majoring in neuroscience.
Aastha Nepal
Trinity High School, Euless 
Aastha Nepal is an IB diploma recipient, an AP Scholar with Honors, and a certified phlebotomy technician. She was vice-president of the International Club and secretary of National Art Honor Society. She was co-founder and president of an organization that distributed hygiene products to the homeless in Fort Worth. She volunteered with Blood Donors of America and Rupandey Service Society. Nepal has performed traditional Nepalese dance for years and works with younger girls in her community to preserve their cultural heritage. Nepal is majoring in healthcare studies. 
Eunice Park
Little Elm High, Little Elm
Eunice Park was an AP Scholar and member of NHS, HOSA and Spanish Club. She graduated in the top 3% of her class and served as the senior class treasurer. Park worked as a children's tutor at Gideon Math and Reading and volunteered at Texas Health Presbyterian Hospital of Plano. She also volunteered with several local churches and nursing homes. Park is majoring in accounting.
Joseph Thang
Emmett J Conrad High, Dallas
Joseph Thang was a group leader in Rising Leader Service Club where he was actively involved in community service throughout Dallas. Thang was a member of the Eagle Scholars and Boys & Girls Club, as well as with his church youth ministry. He was team captain of Vickery United FC soccer team and played both varsity soccer and varsity cross country. Thang is majoring in software engineering.
Jillian Turner
Plano East Senior High School, Plano
Jillian Turner was an AP Scholar and served as an officer for Health Sciences Academy Club, HOSA and Student-Led Ethical Treatment of Animals Club. As a member of the elite Health Sciences Academy, Turner became a board-certified EKG technician. She served as the varsity swim team captain, broke two school records, and became a district and regionals champion, while also swimming for the club team Metroplex Aquatics. She volunteered at Methodist Richardson Medical Center, local Special Olympics basketball games, and Feed My Starving Children events. Turner is majoring in neuroscience.
Leah Varghese
Hebron High School, Carrollton
Leah Varghese was an AP Scholar and a member of NHS and Science National Honor Society. She was president of New Kids on the Block Club and a Kindness Ambassador in the LISD school district. Varghese received a Hebron Academic Excellence Award and two Accipiter Magnus awards. Part of the varsity choir, she was recognized for her solo performances. She volunteered at the Champion's Club assisting children with special needs, at the Carrollton Public Library, and as a video marketing intern for the Real Options Women's Health Clinic. Varghese is majoring in healthcare management.